Through grand walnut doors opening from the hotel's 12th floor lobby, The St. Regis Bar welcomes guests to an enchanting environment, unmatched in all of Osaka.
Menu:

Tea time: menu
Happy hour: menu
Bar time: food menu / drink menu
Tel: +81 (0)6 6105 5659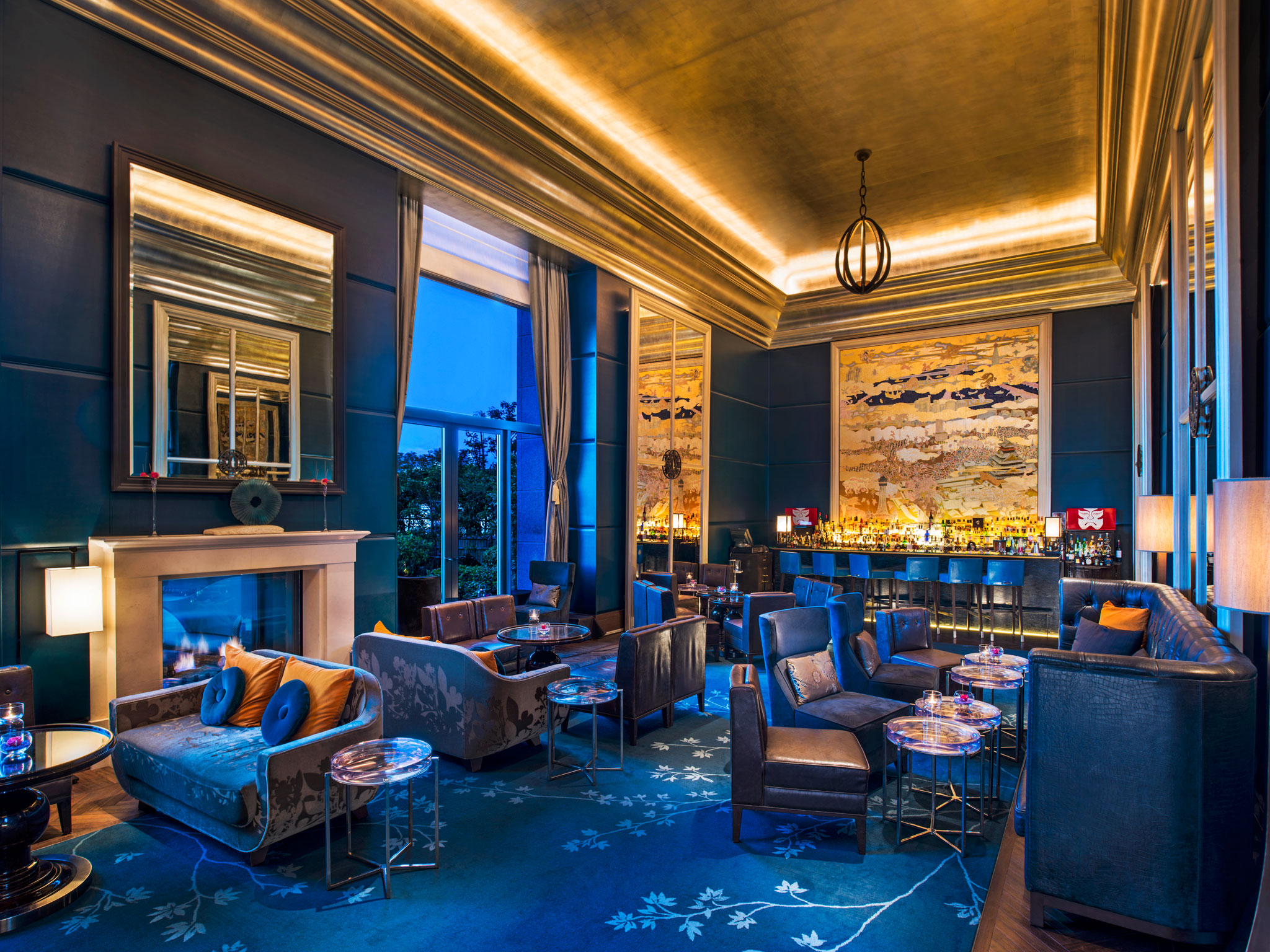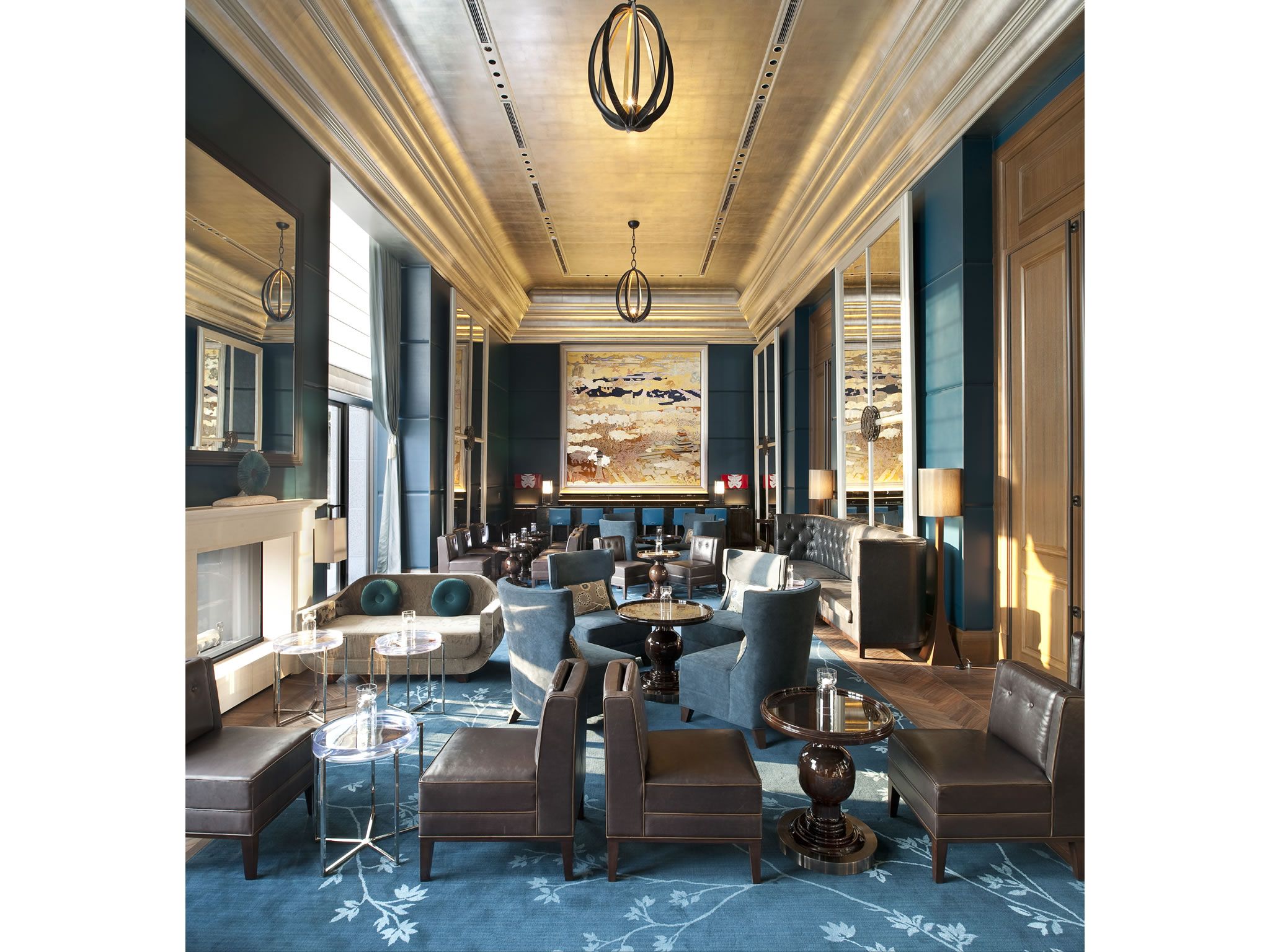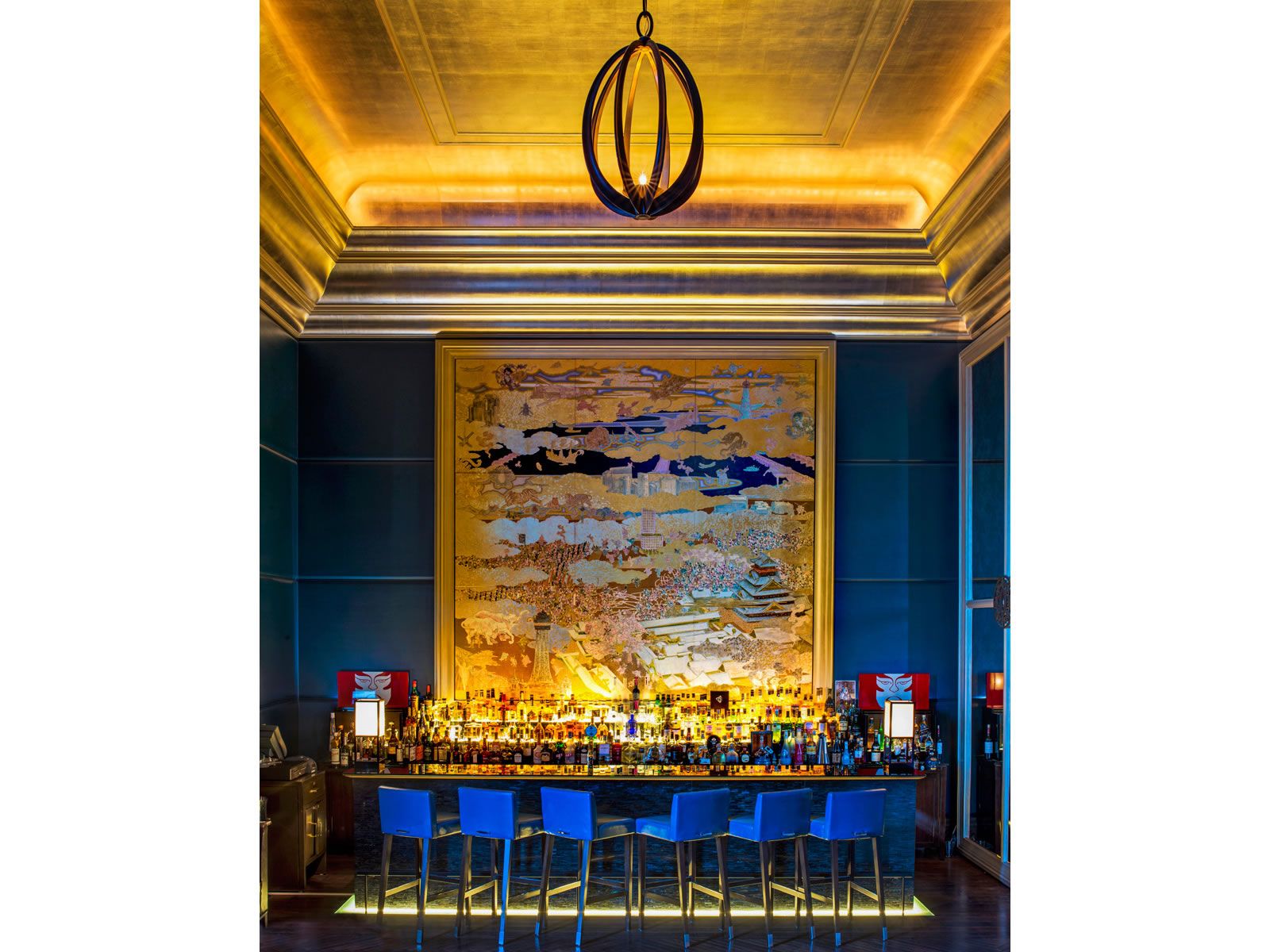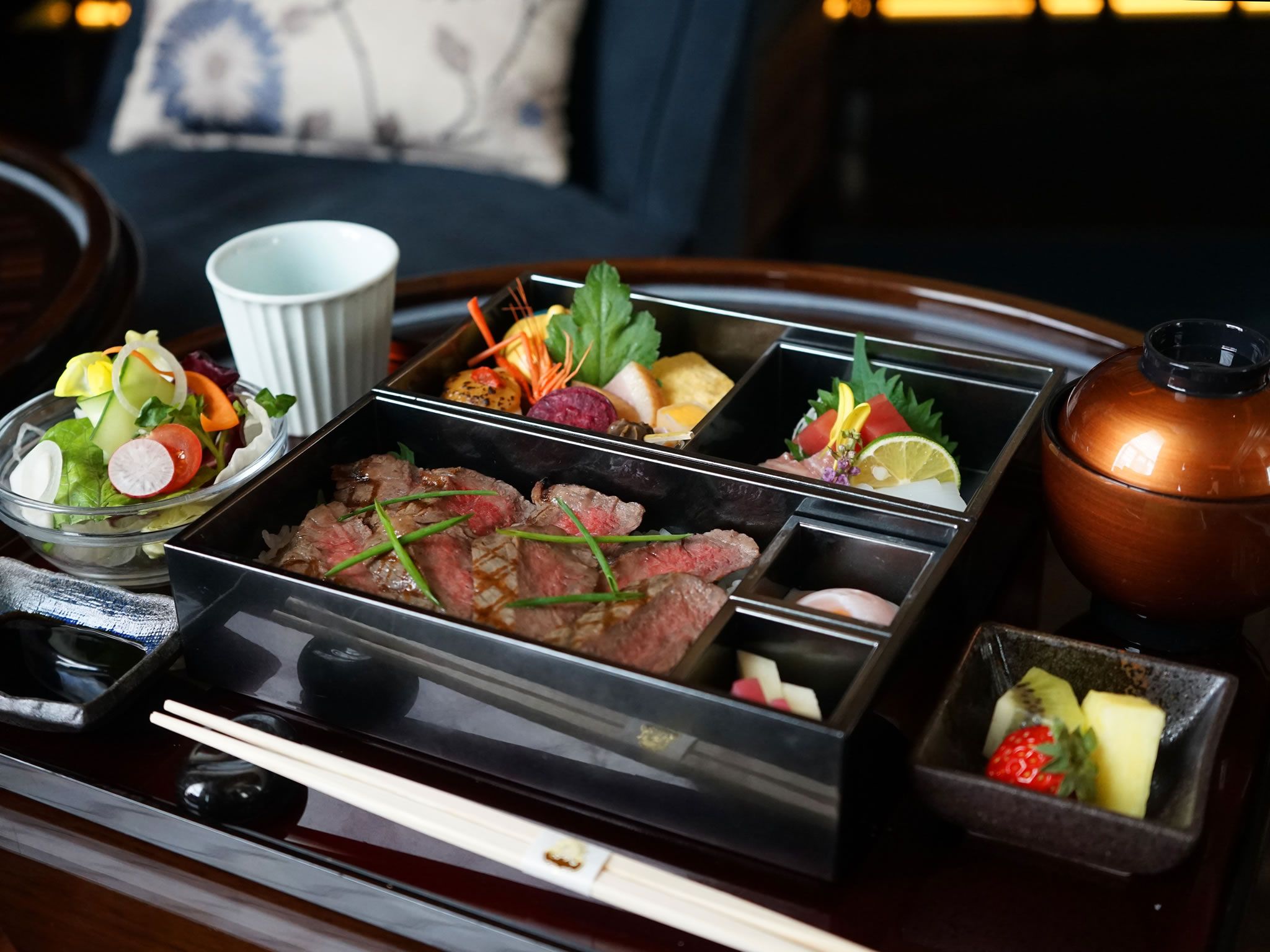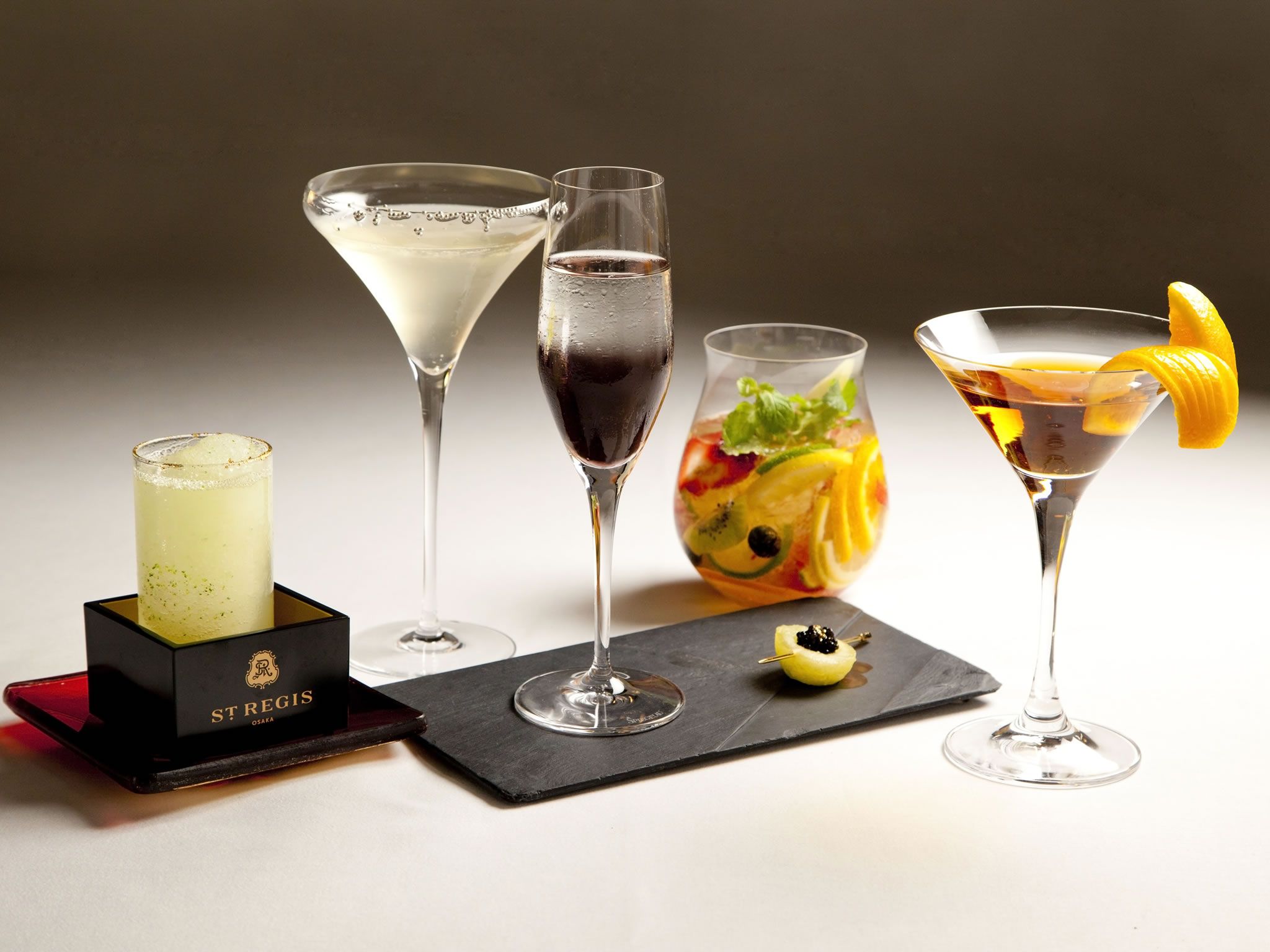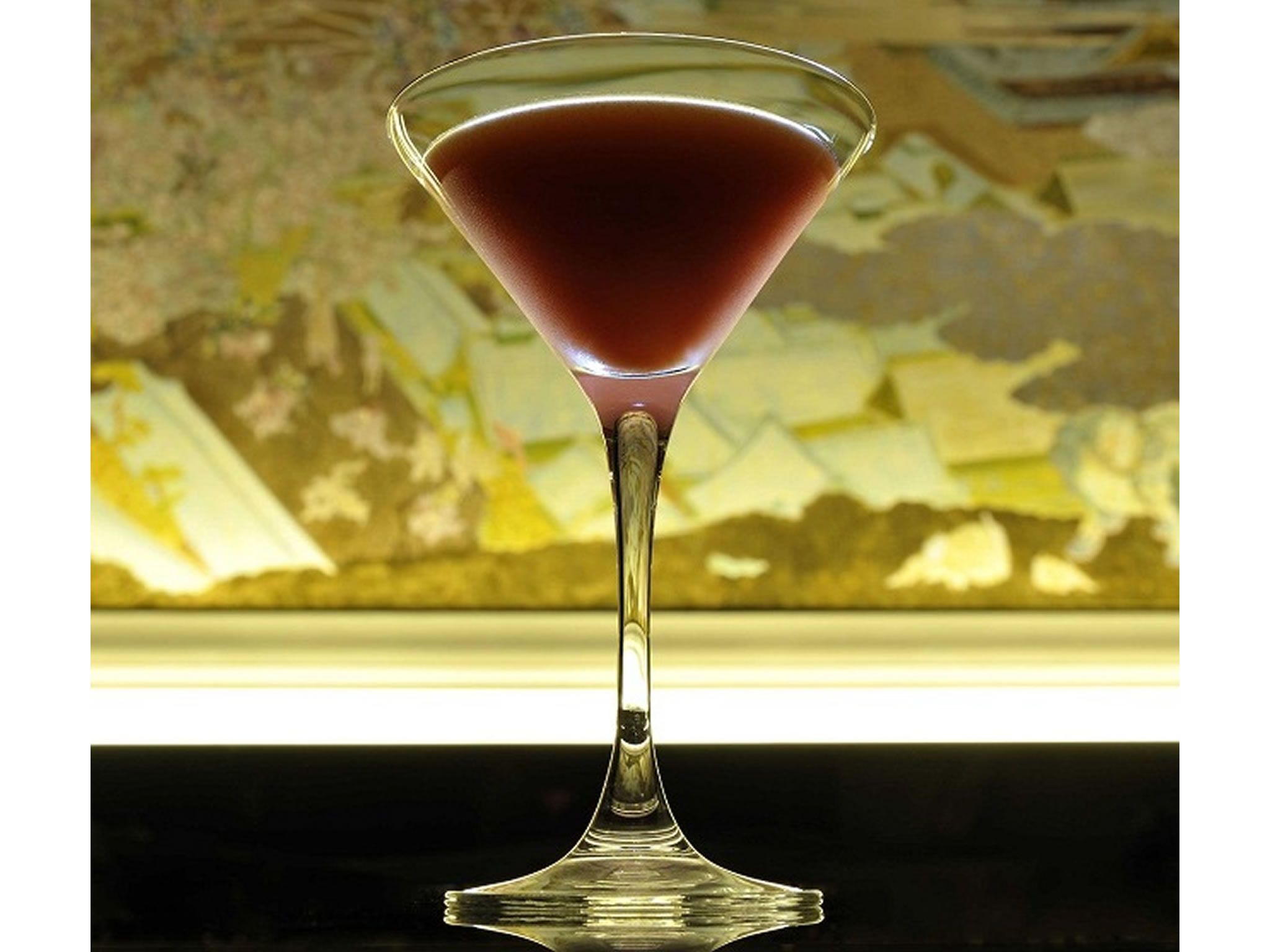 Discover sweeping city views and a quiet Zen garden terrace as you relax and enjoy handcrafted cocktails in a setting of deep turquoise paneled walls, a precious blue tiger's eye bar, tall mirrors, and a deep corniced silver ceiling. Candlelight, rich leather seating, and a grand piano add to the bar's allure. Overall, the décor was designed to reflect the Momoyama era of Japan, a period of hope, prosperity and harmony and a time when Japan opened up trade from the east to the west.
Japanese-influenced details include tsuba-inspired door handles and lacquered display cabinets with sleeping Samurai display boxes that light up when opened to reveal glowing bottles. In time-honored St. Regis tradition a specially commissioned mural provides the backdrop to the bar. Hidden details of Osaka castle, satellites, and mystical animals appear as guests study the painting.
All over the world, each St. Regis Hotel creates a signature Bloody Mary—a fresh cocktail that reflects the hotel's setting. In Osaka, it is the Shogun Mary. A blend of unique Japanese flavors and seasonings, including yuzu, wasabi and soy sauce with fine vodka. The bar also offers a menu of small plates, including items such as an international cheese selection and a Sicilian salad with celery and citrus fruits.
Enjoy the timeless ritual of afternoon tea in The St Regis Bar. Each day, guests are invited to experience a menu of delectable tea sandwiches, soufflés, pastries, and fresh fruits with exceptional blends by legendary French tea purveyors, Dammann Frères.
Live Jazz
Live jazz performance is offered at 12F The St. Regis Bar from 8pm daily (except on Mondays). Cover charge: 1500 yen
Sessions: 20:00 / 21:00 / 22:00 / 23:00 (30min each)
Afternoon Tea
In the late 19th century, it was Caroline Astor, mother of the St. Regis founder John Jacob Astor IV, who elevated traditional Afternoon Tea to a new level by introducing the ritual at dignified gatherings at her house in Manhattan.
Today, this ritual comes alive every afternoon at every St. Regis around the globe, where guests are invited to enjoy distinct interpretations of this legacy inspired by the respective traditions of each location.
Experience an afternoon indulgence with delicacies from our signature menu including oven-fresh scones with a variety of gourmet and classic teas. Extravagant desserts and pastries served on an elegant three-tiered silver stand accompanied by deli finger sandwiches and a savory selection of pastries will turn an ordinary afternoon tea session into one full of splendor.
For those with a bigger appetite, we also serve Gentleman's Afternoon Tea set, which includes assorted grilled skewers, beef steak, club sandwich, and so on, accompanied by tea or upgrade with your choice of martini, beer, champagne, or whisky.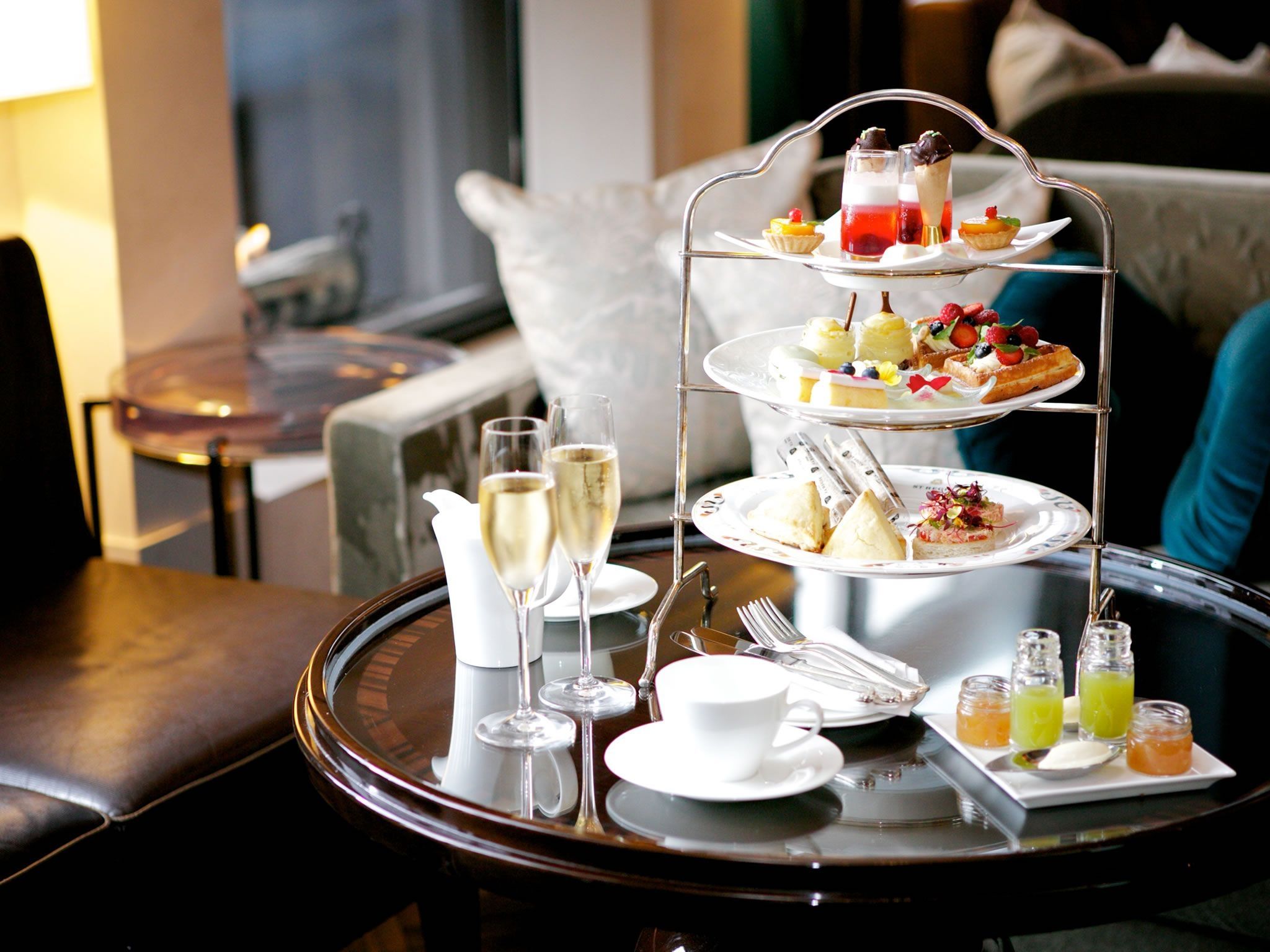 The St. Regis Bar
Cuisine:

Contemporary

Hours:

Sunday - Thursday
5:30 PM - 12:00 AM

Friday - Saturday
5:30 PM - 1:00 AM

Afternoon Tea
Daily 12:00 PM - 5:30 PM

Dress Code:

Casual Sophistication

Smoking Permitted:

No

For Reservation: